Welcome to Wrightsville Beach

An energetic and bustling community with crystal blue waters, wide sandy beaches and an active island lifestyle.


Wrightsville Beach is a small coastal community located in
New Hanover County
, North Carolina. This southern North Carolina community is just six miles from downtown Wilmington. The area has stunning white-sand beaches and clear waters, making it a popular tourist destination. The area is small but still houses many unique attractions and activities, including the Wrightsville Beach Loop and Crystal Pier, a popular spot for fishing enthusiasts and a great place to watch surfers and dolphins swim in the Atlantic Ocean.
Accolades and for Wrightsville Beach are a'plenty, most recently the seaside town was awarded #4 on MSN's list of "Best Beaches in the U.S" and a nod by National Geographic Traveler's "Last Best American Beach Towns" and "World's 20 Best Surf Towns." Further elevating the beach experience, Wrightsville Beach is a playground for world-class water sports like surfing, stand-up paddle boarding, and kayaking. Several competitive events are held at the beach throughout the year.
Many people call Wrightsville Beach their home due to its beautiful shoreline, quaint feel, and fantastic community vibe. It is a lovely town surrounded by various bays, creeks, and the ocean. Wrightsville is located along the North Carolina Coast,
situated between the private island of Figure Eight and uninhabited Masonboro Island, which is part of the NC Coastal Reserve and National Estuarine Research Reserve System. Wrightsville Beach is a beach lovers' paradise and we're certain the calming salt waters will cure what ails you!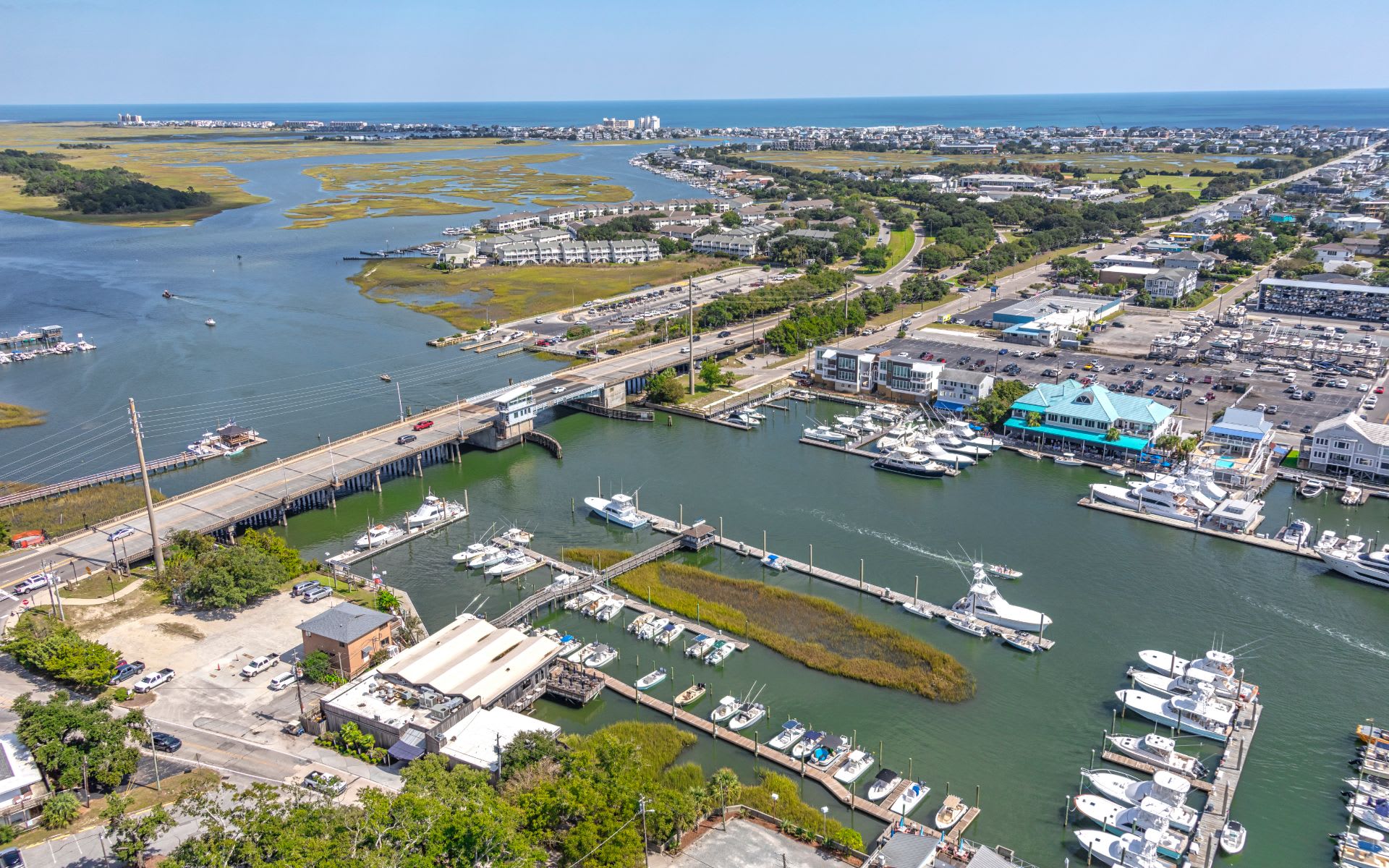 Wrightsville Beach Real Estate
With its residential charm and natural beauty, homes in Wrightsville Beach are highly coveted, and many homes have been in families for generations. Residents own year-round homes, vacation homes, second homes, and investment properties ranging from luxury condos to waterfront homes along the Intracostal Waterway and the Atlantic Coast. Wrightsville Beach has become a hot spot for investors as land values have continued to increase over the years, and older homes becoming replaced by modern, luxury homes. Nearby areas to Wrightsville Beach include Wilmington, Landfall/Airlie, and South Oleander.
What to Love
Stunning ocean views and water activities
Luxury beachfront homes and amenities
A relaxed and outdoor lifestyle
Walkabout shops and eateries
The Lifestyle
While Wrightsville Beach is an affluent area, it also has an eclectic and friendly community. Residents come from all over the world searching for a unique lifestyle in a beautiful place, and Wrightsville Beach seeks to cater to that after-hours need. In the Wrightsville Beach area, residents boast a view of the Atlantic Ocean, but the communities have also developed a reputation for alternative lifestyles. The area is known as a haven for countercultures and those seeking a slower pace of life.
Dining, Entertainment & Shopping
The Bridge Tender
is a waterfront restaurant with views of the marina that serves high-end seafood and steak.
Oceanic Restaurant
is an upscale eatery with indoor and outdoor seating on Crystal Pier that serves fresh seafood and is close to the action on the pier. For a taste of Mexican fare,
Tower 7
Baja Grill is a lively, relaxed eatery that serves Baja-Mexican-inspired dishes like fish tacos and margaritas.
Redix
is a well-known store in Wrightsville Beach that sells beach attire and outdoor products for beach days, hiking, and everyday living.
Things to Do in Wrightsville Beach
A
Flotilla
is a fun holiday event where locals gather to see beautiful boat floats in the evening and shop, dine, and explore local vendors during the day.
Wrightsville Beach Museum of History
showcases the history and story of the community. The museum has different exhibitions and hosts events throughout the year.
Wrightsville Beach Summer Concerts
are a weekly event in Wrightsville Beach Park where locals can enjoy food trucks and live music.
Beach to Battleship Triathlon
is an internationally recognized event where locals can compete or cheer for their community members.
Wrightsville Beach Schools
New Hanover County Schools serves more than 26,000 students in New Hanover County, including Wrightsville Beach. The district has 45 schools and is the second-largest employer in New Hanover County. The educational system provides comprehensive programs for students in kindergarten through high school. There are also several private schools around the community.
For any questions regarding Wrightsville Beach, or if you would like additional information, contact your Wrightsville Beach real estate experts, The Beatty Pittman Team.