Welcome to Kure Beach/Carolina Beach

Lively and relaxed coastal communities with ample opportunities for surfing, fishing and entertainment.


Kure Beach and Carolina Beach are neighboring communities that share the same island, along the coast of the Atlantic Ocean in
New Hanover County
, North Carolina. Each with distinct personalities, the towns offer a variety of activities for people to enjoy, such as surfing, kayaking, fishing and entertainment.
Kure Beach is a resort town on North Carolina's southern coast located on the Atlantic Ocean. Considered by some to be the prettiest town in North Carolina, it is home to the oldest fishing pier on the east coast, an oceanfront park and nearby state aquarium, historic Civil War fort and white-sand beaches. Kure Beach
attracts many tourists each year due to its picturesque area, classic fishing and great restaurants. For most locals, though, the town is best known as the location of the Kure Beach Fishing Rodeo, which is held every year.
Laid back and friendly, the iconic beach town of Carolina Beach will bring back memories of the good 'ol days. Nestled between the Atlantic Ocean and Intracoastal Waterway, here you'll enjoy miles and miles of gorgeous Atlantic beaches, live music, great fishing, fresh seafood, restaurants and nightlife. If you're looking for a low-key place to relax, Carolina Beach is a great fit. The community is one of the oldest recognized towns on the East Coast of the United States and today, is a North Carolina coastal community with a fast-growing population.
This down-to-earth beach town also features beautiful nature. Hike miles of sandy trails through maritime forest at Carolina State Park while taking in panoramic coastal views. Freeman Park is also a favored spot for surf fishing, camping and four-wheeling on the shore of the Atlantic Ocean.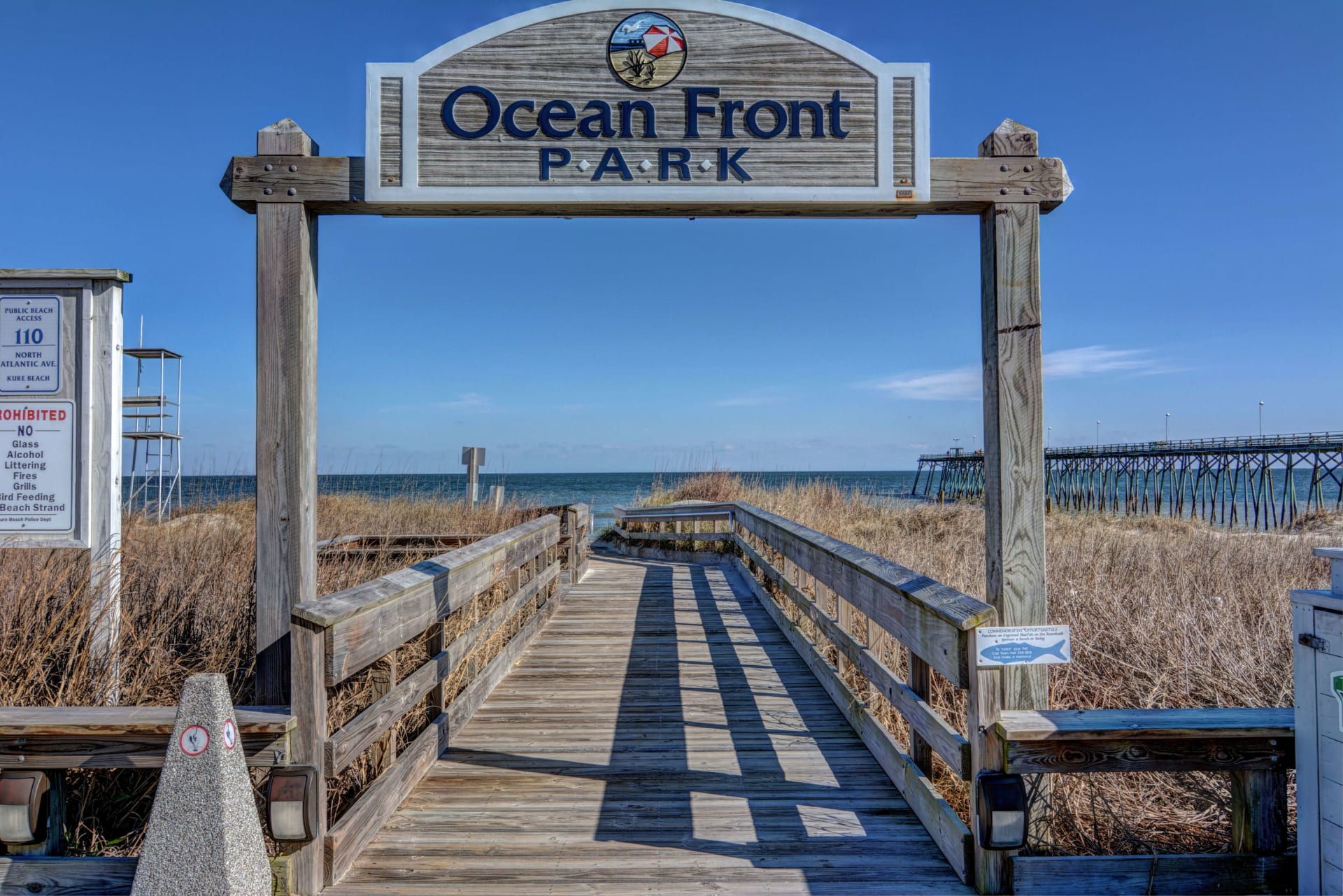 What to Love
Slow-paced, and relaxed towns

Waterfront communities with many activities

Luxury beachfront homes and amenities

Walkable downtowns with shops and restaurants
Local Lifestyle
Residents love the lifestyle in Kure and Carolina Beach. These communities offer residents a sense of belonging and a close-knit feel that is lost in many cities and urban areas. These Atlantic Ocean beach towns are by far some of the most unique along the east coast. They are small towns with big personalities, and they truly feel like their own little world.
The areas each have a vibrant culture and community. The beach lifestyle is very laid-back. It is a place where people go to enjoy the ocean and surf and can spend hours of their day relaxing and playing in the sand and waves.
Dining, Entertainment & Shopping
Jack Mackerel's Island Grill
is a casual eatery with a lively and colorful dining space that serves Caribbean-inspired dishes and seafood.
Freddie's Restaurant
is an award-winning eatery that serves steaks, seafood, pasta, and other Italian dishes. A wonderful beachfront dining option is
Ocean Grill and Tiki Bar
, which boasts a relaxed atmosphere and serves fresh coastal cuisine and cold drinks.
Stoked Restaurant
has beautiful water and marina views and features live music. The restaurant serves surf n' turf dishes and freshly made pasta.
Things to Do
Schools