Wilmington is often described as North Carolina's best-kept secret. However, the secret may be out. The city offers excellent year-round weather, friendly neighbors, a river walk, and plenty of beaches. These reasons, and many more, are leading people to relocate to Wilmington.

If you're considering joining folks who are heading to Wilmington, this guide is for you!
Everything you need to know about Wilmington real estate
The history of Wilmington
To really understand a place, you need to understand its history. This is especially true for Wilmington. Wilmington is an old city by American standards—it was founded in 1739. Located on the Atlantic coast and with easy access to Cape Fear River, it quickly became a trading hub during colonial times.

The city would undergo a major transformation in 1840, when the Weldon Railroad finished construction. With the completion of the railroad, the city's occupants could easily reach rural areas for even more trading opportunities. By 1850, Wilmington was the largest city in North Carolina.

In 1910, Charlotte passed Wilmington to be the state's largest city. Still, Wilmington retained its historic charm as a port city. Many of the buildings you'll find here have some form of historic registration. In the 1990s, Wilmington again underwent rapid economic growth, which was partly due to the film industry and the completion of I-40.

This gives Wilmington a unique blend of historic charm and modern amenities. In a sense, Wilmington offers the best of both worlds. The history, economic growth, and waterfront location all make Wilmington a great place to live.
'Awards & Accolades' for the Wilmington Area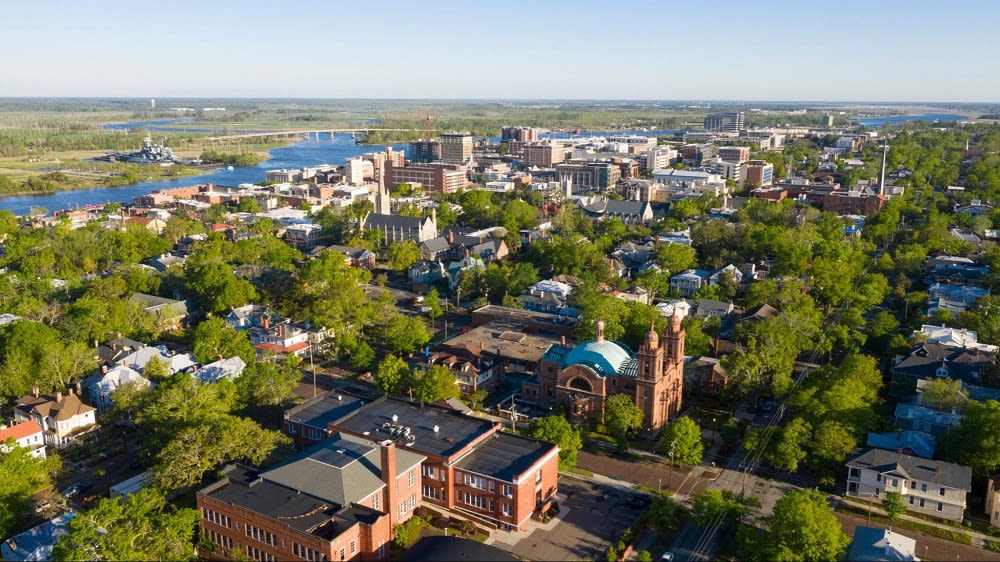 With such a beautiful city and wonderful weather, Wilmington has been honored with multiple recognitions from across the country. Here are a few nods that really stand out:
TripAdvisor.com included Wilmington among its list of "9 Towns with Treasure Waiting to be Discovered"
Southern Living magazine included Wilmington and our Islands Beaches in its list of "The South's Best Cities on the Rise 2021"
U.S. News & World Report included Wilmington & Beaches in a roundup of "Charming Under-The-Radar Southern Cities Worth Exploring"
U.S. News & World Report ranks University of North Carolina Wilmington as one of the best public national universities in the nation, according to the "2022-2023 Best Colleges"
USA Today selected the Wilmington Riverwalk as 2021's '10Best Readers' Choice'
Better Homes & Gardens ranks the NC Azalea Festival as #3 among "9 Must-See Spring Garden Festivals in the US"
Oprah magazine named Wilmington one of the "28 Best Christmas Towns & Villages Across The World"
Architecture Digest included Thalian Hall,

one of the country's oldest theaters, on their list as one of "The Most Beautifully Designed Theaters in The Country"

TravelandLeisure.com included Wilmington on its list of "America's Favorite Cities for Brunch"
SmartAsset.com ranked Wilmington #7 among "Best Cities for Beer Drinkers"
Reasonable cost of living
No matter how much you spend on your new Wilmington home, you can expect everyday costs to be much lower than in most parts of the country. According to a report from
Wilmington Parade of Homes
, $100 in North Carolina is worth about $109.05 when compared to national average costs. This makes Wilmington more affordable than other coastal towns in Vermont, Rhode Island, or Florida. The average North Carolina household will only spend $3,008 on groceries per year, versus $4,694 in Vermont.
North Carolina is also considered to be moderately tax-friendly. Low sales taxes and property taxes help keep North Carolina affordable.
Close-knit community
No matter how beautiful the beaches or comfortable the weather, the friendliness of locals will significantly impact your quality of life. You can rest assured that Wilmington is one of the friendliest places in the nation. It's a growing beach city full of transplants and locals.

The city itself has a population of 120,000, but the surrounding metro area is home to about 263,500. You'll find people from various stages of life, from college students to retirees.
Amazing weather
One of the main reasons people choose to move to Wilmington is the amazing weather. The summers don't get too hot, and the winters don't get too cold. The hottest month is July, with temperatures typically ranging from 73° F to 84° F. The coldest month is January, which typically ranges from 41° F to 54° F. Freezes and snow are very rare in Wilmington. The city receives an average of 111 days of sunshine each year.
Know your neighborhoods
No homebuying guide is complete without an introduction to the local neighborhoods. Like any city, the neighborhoods in Wilmington each come with their own unique pros and cons. With that said, here are our favorite neighborhoods in Wilmington.
Wrightsville Beach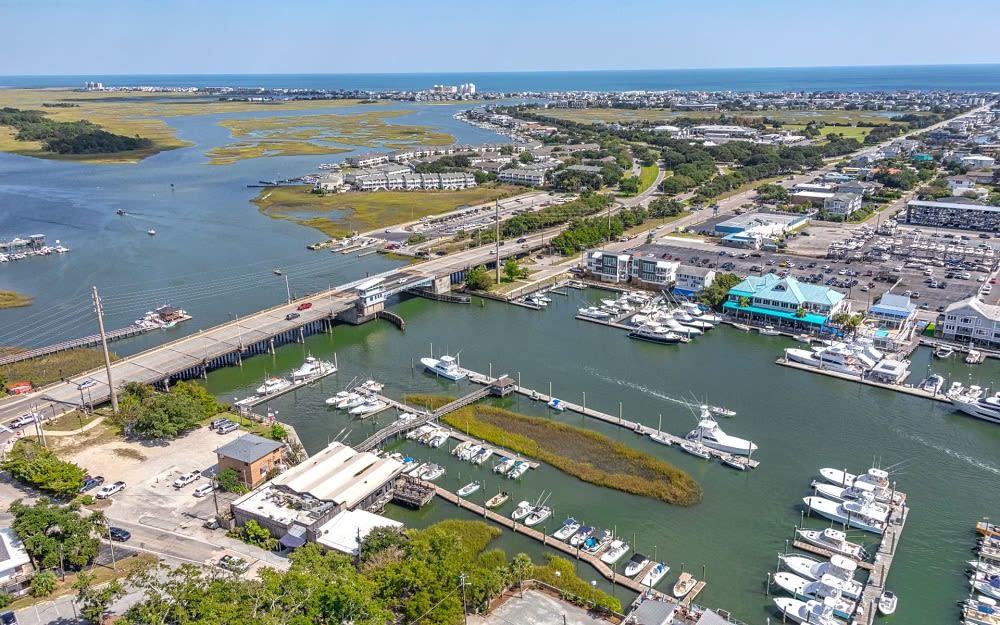 With crystal blue waters and white-sand beaches, Wrightsville Beach is a small coastal community with an energetic island lifestyle. Just six miles from Downtown Wilmington, Wrightsville Beach is a popular tourist destination with many unique attractions and activities, including the Wrightsville Beach Loop and Crystal Pier, which is a popular spot for fishing, surfing, paddleboarding, kayaking, and watching dolphins swim in the Atlantic Ocean. A beach lover's paradise, this affluent area is friendly, eclectic, and bustling with things to see and do.
Landfall/Airlie
Near Wrightsville Beach and Wilmington, Landfall and Airlie are coastal communities known for their beautiful surroundings, active lifestyles, and upscale amenities. Landfall is a gated, family-oriented community boasting 2,200 acres of land, including 320 acres of conservation land, while Airlie is nestled amid live oaks, lush gardens, and expansive waterways, including Wrightsville Sound.

Both communities are full of incredible natural beauty, with stunning ocean views, luxury homes, bustling downtown areas, and manicured golf courses and parks. When it comes to some of Wilmington's best shopping and dining, Landfall and Airlie have them in spades.
Bald Head Island/Southport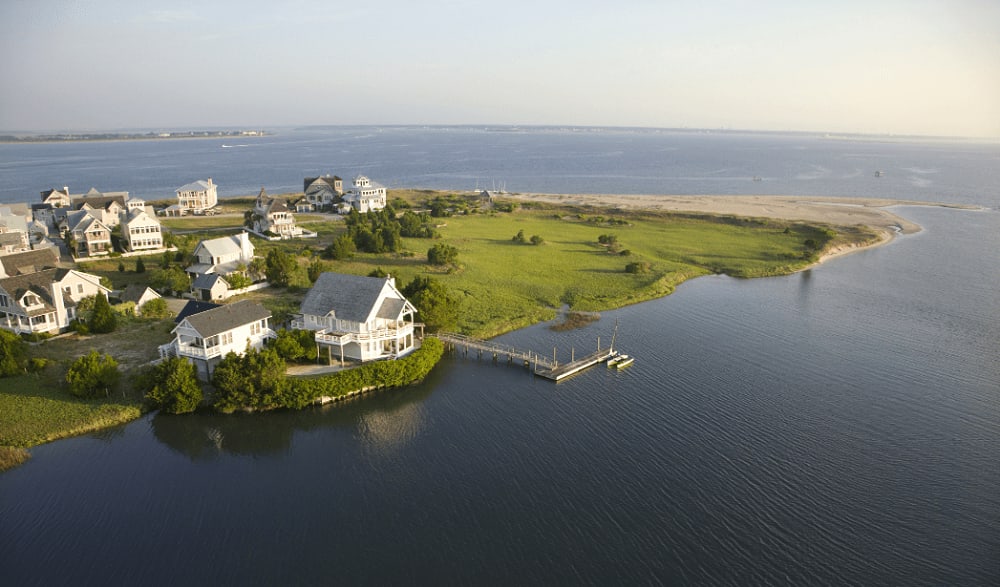 Located on the southern tip of North Carolina in Brunswick County, Bald Head Island and Southport are vibrant coastal towns with a laidback lifestyle and a rich maritime history.

The exclusive Bald Head Island is just off the mainland and only accessible by passenger ferry or private boat. No cars are allowed on this barrier island, so residents and vistors travel by foot or via golf cart, bike, or tram. With 14 miles of pristine beaches and 10,000 acres of untouched beach, marsh, and maritime forest preserves, it's an incredible destination. Anchored by a historic downtown along the waterfront, Southport's position on the mainland between Cape Fear River, the Intracoastal Waterway, and the Atlantic Ocean makes it a great place for jetskiing, boating, sailing, and fishing. Both of these beach locales have incredible views, waterfront homes, and a close-knit community feel.
Kure Beach/Carolina Beach
Kure Beach and Carolina Beach are neighboring communities along the Atlantic coast in New Hanover County, yet each have a distinct personality while offering tons of opportunities to surf, fish, sail, and dine. There's never a dull moment in these beach towns!
Considered to be the prettiest town in North Carolina, Kure Beach is home to the oldest fishing pier on th East Coast, an oceanfront park, white-sand beaches, and the famous
Kure Beach Fishing Rodeo
. Laidback, friendly, and brimming with nostalgic appeal, Carolina Beach has miles of sandy beaches, incredible dining and nightlife, and great fishing. One of the oldest towns on the East Coast, this fast-growing community still maintains its down-to-earth charms.
Historic Downtown/South Oleander
With over 230 blocks of cobblestone streets, Historic Downtown Wilmington is lined with neoclassical archiecture, an amazing dining scene, and a vibrant arts community. Anchored by Cape Fear River, The Riverwalk features a 1.75-mile boardwalk that was recently named "America's Best Riverfront."

Containing both Forest Hills and Midtown, South Oleander is a quaint and beautiful part of town. Lying west of Wilmington, South Oleander is a historic area brimming with impressive estates, mid-century brick homes, renowned eateries and boutiques, and close proximity to numerous beaches all within its central location.
Wilmington
Wilmington itself is renowned for its hometown feel, water-based lifestyle, great dining and entertainment, and its location at the nexus of Cape Fear River, the Intracoastal Waterway, and the Atlantic Ocean. Brimming with sandy beaches, gorgeous nature preserves, marshes, and stately live oaks, Wilmington is a friendly, relaxed, and community-oriented city that's big on beachside living and soaking in the sunshine!
Partner with a Wilmington real estate agent today
If you're looking to join the wonderful communities of Wilmington, finding a real estate agency you can trust is important. That's where
The Beatty Pittman Team
can help. Run by duo Keith Beatty and Drew Pittman, they have multiple decades of experience in the Wilmington area. Today, The Beatty Pittman Team consists of prominent area brokers who were hand-picked for their excellent knowledge and customer-oriented mindset.
If you're looking to buy a home for sale in Wilmington, we'd love to
get in touch
. For more information on the local real estate market and trends, check out
our blog
.